http://georgenet.net/bloodhemo/
Hemochromatosis, Beta THALASSEMIA Trait and Anemia information
---
Collection of files categorized
Click this link to see categorized folders ranging from H63D, HHC, DILD, Genetics, Dieting and more


Assortment of files I made and collected pertaining to Blood, B-Thal, Hemochromatosis, Medications, etc
Doctors of the members on the list
---
Clinical Trials for Hemochromatosis
Clinical Trials.gov (Hemochromatosis)


I am now working on this clinical trial with my doctor, have the biopsy coming up.
Randomized Global Phase 3 Study to Evaluate the Impact on NASH With Fibrosis of Obeticholic Acid Treatment (REGENERATE) Experimenta Obeticholic Acid or placebo

I also tried for both of these but for various reasons I was excluded.
---
Collection of Youtube videos I found on HH
---
Questionnaire for Patients with Iron Overload disorder and/or symptoms
This survey is to compile data and to communicate with patients with Iron Overload disorder, symptoms and treatments and to match patients with similar traits (genetics, etc) and to refer your doctor(s)
View The Questionnaire Responses
Fill out the Questionnaire
---
My Situation:
2006 was an unusual year which led me and my doctors to the discovery of Hemochromatosis together with Beta THALASSEMIA Trait and Anemia
This led to a radical diet and lifestyle change, change to liver safer medications, lots and lots of blood tests, genetic tests, CAT scan and also a liver biopsy.
Even a variety of skin problems from the iron deposits to the catheter touching my forearm !!! Have been linked to all of this. Never a dull moment!!!
I hope this resource and collection can help others. Please forward me any links or files you may know of that would be good for this site.
I just received these two Books for patients of Hemochromotosis they both have a wealth of information and references to case studies, researchers, resources, web sites, and even a glossary.

Mailing List
Finally there is a mailing list called ExcessIron which I found and has been very helpful for me and others with HHC worldwide..... Click here to talk about iron in the Excess Iron Online Support Group

George Lewycky
December 2006 grlewycky@yahoo.com
http://georgenet.net/bloodhemo/
---
New York Times 8/13/2012: A Host of Ills When Iron's Out of Balance
---
Collection of files categorized
Click this link to see categorized folders ranging from H63D, HHC, DILD, Genetics, Dieting and more


Assortment of files I made and collected pertaining to Blood, B-Thal, Hemochromatosis, Medications, etc
---
Fantastic collection of research, arcticle's and organizations
Hemochromatosis: Important Scientific articles and information and more Links on Hemotchromatosis
Search Amazon for books on Hemochromatosis
click here to start the search
---
How I found out I have Beta Thalassemia , Hemachromotosis and Anemia
In late 2005 my Neurologist was baffled with my routine blood work used to measure my medications and blood level. Especially the fact that I had a low Hemoglobin and moderately high Iron and suggested I get it looked into.
I then found a really good Endocrinologist who had blood work done on me and his first guesses were right on the money about me having Anemia, Beta Thalassemia or even Sickle Cell Anemia. But questions remained about the unusually higher Iron especially since Beta Thalassemia translates into a Iron deficiency!!
Next was the Hematologist who had more blood work and genetic testing and confirmed the Beta Thalassemia but she was baffled too about the high Iron. Then after a CAT scan revealed that I have a large, even & fatty liver together with two spleens with a few lymph nodes I was then referred to a Gastroenterologist.
The Hepatalogist/Gastroenterologist then performed a Colonoscopy, and finally a Liver Biopsy and then the mystery was solved. I was confirmed with the following:
Hereditary Hemochromotosis : HHC Chromosome 6 [ 6p21.3 ]
Positive for heterozygous (both parents) presence of the H63D mutation in the HFE gene
Negative for the C282Y (tyrosine) mutation (explains the excess Iron Storage)
NAFLD - Non Alcoholic Fatty Liver Disease
Drug-induced liver disease (DILD) two medications were changed
Three red blood cell disorders: Beta THALASSEMIA Trait, Hemachromotosis & Mild Anemia
Later on my 2nd Hepatologist went on a more agressive approach and was considering Iron Chelation therapy with me taking Exjade/deferasirox (now in pill form). But since I was also Anemic and my low Hgb became a problem with my phlebetomies this seemed the best alternative.
But the question remained how much Iron is in my liver? After getting insurance approval I underwent a special MRI of my liver to map it for the Iron content. The MRI is called Ferriscan . Not all MRI's are equipped for this click here to find a location near you .
Luckily my liver came out without Iron !!! Baffling my doctor, so i continue to diet and avoid Iron enriched foods and get continual blood work.


---
What is Hemochromatosis ?
Hemochromatosis results from inheriting two copies of a defective gene, which causes the intestines to absorb too much iron. As a result, a person with these defective genes is likely to develop liver disease in middle age. Hemochromatosis is often hard to identify because the symptoms are shared with other diseases. If a fairly close relative, such as an aunt, uncle, or first cousin has hemochromatosis , it may be prudent to test your childrens DNA for the defect.
The Centers for Disease Control (CDC) recommends avoiding vitamins that contain iron and restricting vitamin C, which increases iron absorption. The CDC also recommends avoiding behavior that could damage the liver, such as more than mild alcohol consumption. Although patients may eat iron-containing foods, they should avoid eating raw seafood and shellfish, because iron-overload patients are susceptible to infections that these foods may carry.
The clinical features of hemochromatosis include cirrhosis of the liver, diabetes, hypermelanotic pigmentation of the skin, and heart failure. Primary hepatocellular carcinoma, complicating cirrhosis, is responsible for about one-third of deaths in affected homozygotes . Sinc hemochromatosis is a relatively easily treated disorder if diagnosed, this is a form of preventable cancer.
At least 5 iron-overload disorders labeled hemochromatosis have been identified on the basis of clinical, biochemical, and genetic characteristics, they are:
Disorder Name

Primary Genetic characteristic

Secondary Genetic characteristic

Classic hemochromatosis

(HFE)

HFE on chromosome 6p21.3

gene encoding hemojuvelin (HJV; 608374), which maps to 1q21.

Juvenile hemochromatosis or hemochromatosis type 2

(HFE2

designated HFE2A, is caused by mutation in the HJV gene

Second form, designated HFE2B, is caused by mutation in the gene encoding hepcidin antimicrobial peptide (HAMP), which maps to 19q13

Hemochromatosis type 3 (HFE3)

mutation in the gene encoding transferrin receptor-2 (TFR2)

Hemochromatosis type 4
(HFE4)

mutation in the SLC40A1 gene which encodes ferroportin and maps to 2q32.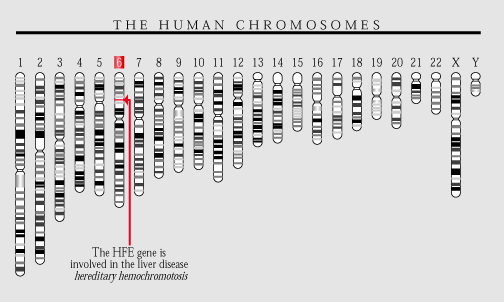 Tips and Frequently Asked Questions
About Phlebotomies aka Blood Lettings to remove the Iron in your blood
Good resource about phlebotomies aka blood letting removing the iron in your blood stream by taking 1/2 to a full pint of blood
 
Here are a few pointers from my experience:
1. if you aren't taking the 81mg baby aspirin you might want to consider 
asking your doctor or take it just for the phleb it helps the blood flow

2. if your Hgb is good and your NOT anemic the whole pint should be ok - 
otherwise consider 1/2 pint and work your way up

3. take it lying down elevated on the examination table instead of sitting 
down

4. keep your arm away from the catheter - I once had an skin outbreak from 
the metal touching my forearm. lasted for months.

What if my forearm breaks out after a Phlebotomy?
Keep your arm covered during your future phlebotomies, especially the catheter from touching your skin on your forearm.
After seeing my Dermatologist two medications where prescribed to me they were:
1. Vanos cream .1% ( by Medicis ) twice a day for a week, then the next week after stability and improvement I was given:
2. AmLactinXL cream (by Upsher-Smith) during the day only since it stings/burns the skin and continued the Vanos cream at bedtime.
http://www.medicis.com/products/pi/pi_vanos.pdf
http://www.upshersmith.com/PDFs/AmLactinXL_pharmacy.pdf
3. Use Calamine lotion in the meantime to ease the itching.
This lasted for over a month and the skin on my arm tightened up and peeled off.
NOTE: your medication(s) might vary!!
Do I have Thalassemia ?
Easy technique with your blood tests to tell if you might have Thalassemia is to And if the result is less than 14 you might be a candidate.
Examples:
 
 MCV 
 -------   =   
 RBC 
 
Some of my test results:

63.3                         
-----  =   11.6         
5.47

Collect your bloodtest results as far back as you can
Make a spreadsheet tallying your blood test results to track changes, progress and problems for you and your doctors especially if multiple doctors are ordering blood tests or you are meeting with other doctors.
Quest Diagnostics provided me copies of my blood tests from as far as two years back and FREE of chargeAsk your hospital, doctors or testing company what they have.
How to interpret your blood test results
http://www.amarillomed.com/howto.htm
Bloodbook.com http://www.bloodbook.com/index.html
LABORATORY VALUES (Northwestern.edu) http://www.galter.northwestern.edu/reftools/normals.html#blood
Liver Functions http://www.hrpca.org/liverfunction.htm
GGT http://www.descipher.com/health/info/GGT
What is a Liver Biopsy or Colonoscopy?
http://digestive.niddk.nih.gov/ddiseases/pubs/liverbiopsy/index.htm
http://digestive.niddk.nih.gov/ddiseases/pubs/colonoscopy/index.htm
Log your Medicine history
Some medications can complicate your liver, induce Liver disease
Also list your family medical problems and family Ethnicity. Im 50% Italian but my name doesnt indicate that that became a clear indicator for the Beta Thalassemia also.
Make a history of your medications and estimate how long you were taking them
I found out that many medications (Vitamins and supplements also) I had were unsafe for my liver and had several switched to liver safe prescribed medications.
Again ask your pharmacy and doctors if they can provide you a good history of your medicines.
Consider visiting a Registered Dietitian / Nutritionist
Keep a log of your regular foods, drinks for the visit. They can indicate which foods could be adding Iron, etc. And also so you will have a more healthier balanced diet.
What about Raw seafood and shellfish ?
Being an Iron overload patient raw seafood and shellfish can cause infections. Consult your doctors
Find out what Vaccines you were given
I was tested and found out I was missing Hepatitis A & B vaccines, and I started the regimen for them.
Ask your doctor(s) if any genetic tests would help
Hemochromatosis along with Beta Thalassemia trait explained my high Iron and yet low hemoglobin. Normally with Beta Thalassemia an Iron deficiency is the result.
Also ask your parents and other family members for their medical histories many answers can result from this data and genetic tests.
Ask your doctor(s) if any supplements would HELP or complicate matters
Such as B12 or B6 vitamin, Folic Acid, or the 81mg Enteric Coasted Baby aspirin.
Ask for the B12 monthly injection I found it works a lot better and one less pill to swallow!
Beware if you are taking a Multivitamin just take what you NEED!!!!
---
Try to communicate with other patients
Iron Disorders Institute based in South Carolina .
Phone: 888-565-IRON http://www.irondisorders.org/ has a fantastic email discussion groups contact Cheryl Mellan who is the moderator at
ExcessIron-list-owner@mail.list.com
---
Thalassemia and Anemia Organizations/Sites of Special Interest
http://www.cooleysanemia.org/sections.php?sec=59
Genetic Conditions Beta thalassemia http://ghr.nlm.nih.gov/condition=betathalassemia
Cooley's Anemia Foundation http://www.cooleysanemia.org/
Northern Comprehensive Thalassemia Center http://www.thalassemia.com/
Thalassemia ( Wikipedia ) http://en.wikipedia.org/wiki/Thalassemia
Yahoo Directory: Thalassemia http://dir.yahoo.com/Health/Diseases_and_Conditions/Thalassemia/
Iron-Deficiency Anemia http://www.umm.edu/blood/aneiron.htm
Univ. Marlyland Blood Diseases http://www.umm.edu/blood/anemias.htm
Hemochromatosis

IBS, HEMOCHROMATOSIS, FIBROMYALGIA, CFIDS
Hemochromatosis Glossary of Terms
THE JOHNS HOPKINS UNIVERSITY hemochrom
Lots of Links on Hemo http://hemochromatose.tripod.com/
The Hemochromatosis Foundation http://www. hemochromatosis .org/
Genetic Conditions > Hemochromatosis http://ghr.nlm.nih.gov/condition=hemochromatosis
CDC: Iron Overload and Hemochromatosis http://www.cdc.gov/ncbddd/hemochromatosis/
NIH: Medline Hemo http://www.nlm.nih.gov/medlineplus/hemochromatosis.html
Iron and Anemia: Ask the Dietician < http://www.dietitian.com/iron.html
Variances for Collection of Blood and Blood Products from Patients with Hemochromatosis
http://www.fda.gov/cber/blood/hemochromvar.htm
Genetics Home Reference HFE Gene: http://ghr.nlm.nih.gov/gene=hfe | Lots of References http://ghr.nlm.nih.gov/gene=hfe/show/References
Books on Hemochromotosis http://hemochromatose.tripod.com/books.html
http://www.ironoverload.org/ Iron Overload Diseases Assn. Florida USA
Hemochromatosis - Diagnosis, Treatment, Maintenance and Diet
Iron Overload a nd Hemochromatosis
Iron Overload and Hemochromatosis : Frequently Asked Questions (CDC)
http://www.cdc.gov/ncbddd/hemochromatosis/faq.htm
FAQ's ABOUT HEMOCHROMATOSIS/IRON OVERLOAD (American Hemo)
Society) http://www.americanhs.org/faq.htm
Disordered Iron Metabolism http://sickle.bwh.harvard.edu/menu_iron.html
Genetics, Testing (blood & genetic)
Ask The Genetist http://www.askthegen.org/ REALLY GOOD!!!
Hereditary Haemochromatosis ( Human Genome) http://genome.wellcome.ac.uk/doc_WTD020857.html
+235200 HEMOCHROMATOSIS; HFE (OMIN Johns Hopkins Univ ) http://www.ncbi.nlm.nih.gov/entrez/dispomim.cgi?cmd=entry&id=235200
Genetics Home Reference HFE Gene: http://ghr.nlm.nih.gov/gene=hfe
Liver Biopsy http://depts.washington.edu/uwhep/clinicians/liverbx.htm
FDA: Blood < http://www.fda.gov/cber/blood.htm
Variances for Collection of Blood and Blood Products from Patients with Hemochromatosis
http://www.fda.gov/cber/blood/hemochromvar.htm
NIH Genetics Home http://ghr.nlm.nih.gov/
Learning about Hereditary Hemochromatosis (Genome.gov) < http://www.genome.gov/10001214
Genetic Testing: http://dnadirect.com/ | http://dnadirect.com/resource/conditions/hfe/index.jsp
Globin Gene Server http://globin.cse.psu.edu/
NIH: Genes and Disease Blood and Lymph Diseases http://www.ncbi.nlm.nih.gov/books/bv.fcgi?call=bv.View..ShowSection&rid=gnd.section.250
Decipher, Lab Test Index http://www.descipher.com/argo/labs/
Quest Diagnostics http://www.questdiagnostics.com/index.html
PERSONAL BLOOD TESTING http://www.bloodbook.com/pers-test.html
Greenwood Genetic Center http://www.ggc.org/index.htm
Evaluating Abnormal Liver Tests - A Systematic Approach
http://archive.mail-list.com/hbv_research/msg09583.html
Assorted and Miscellaneous
Glossary of Medical Terms: http://www.hcvadvocate.org/library/glossary.asp
NY Blood Center http://nybloodcenter.org/index.jsp
National Organization for Rare Disorders http://rarediseases.org/
Blood Journal http://www.bloodjournal.org/
World Health Org: Genomic Research http://www.who.int/genomics/research/en/
Hemoglobin http://mgl.scripps.edu/people/goodsell/pdb/pdb41/pdb41_1.html
Technical Medical Reference books on Hepatic Medicine & Liver Diseases
http://www.vonl.com/chips/slmhp.htm
Yahoo Directory > Health > Diseases and Conditions
http://dir.yahoo.com/Health/Diseases_and_Conditions/
Liver, Drug Induced Liver Disease (DILD
An Overview of Drug-Induced Liver Disease by Jiwon Kim, PharmD
http://www.uspharmacist.com/index.asp?show=article&page=8_1634.htm
Liver Damage Caused by Drugs http://www.merck.com/mmpe/sec03/ch024/ch024c.html
DRUG-INDUCED LIVER INJURY
http://www.meddean.lumc.edu/lumen/MedEd/orfpath/drug%20hepatitis.htm
Medications and Your Liver
http://www.upmc.com/HealthManagement/ManagingYourHealth/PersonalHealth/Men/?chunkiid=27863
Preventable Adverse Drug Reactions: A Focus on Drug Interactions
http://www.fda.gov/cder/drug/drugReactions/default.htm
Hepatitis Glossary http://www.geocities.com/Mamablondie/hepterms.html
Diseases & Conditions: http://www.medicinenet.com/diseases_and_conditions/article.htm
Liver Structure and Function http://www.gastroresource.com/GITextbook/en/chapter14/
NIH: Liver Diseases http://www.nlm.nih.gov/medlineplus/liverdiseases.html
Liver Functions http://www.hrpca.org/liverfunction.htm
Liver Test http://www.liverdoctor.com/Section2/09_livertest.asp
Danish Liver & Hepatitis Web site: http://home3.inet.tele.dk/omni/english.html
Other Liver-related World Wide Websites
http://www.cumc.columbia.edu/dept/medicine/divisions/gi/other.html
Organizations:
American Hemochromatosis Society
4044 W. Lake Mary Blvd.
Lake Mary FL 32746-2012
Phone #: 407-829-4488
800 #: 888-655-4766
e-mail : mail@americanhs.org
http://www.americanhs.org/

Joint Center for Sickle Cell and Thalassemic Disorders
http://sickle.bwh.harvard.edu/index.html

Cooley's Anemia Foundation
129-09 26th Ave Suite 203
Flushing NY 11354-1131
Phone: 800-522-7222; 718-321-2873
Fax: 718-321-3340
Email: info@cooleyanemia.org
http://www.cooleysanemia.org/sections.php?sec=59

Thalassaemia International Federation
PO Box 28807
2083 Nicosia
Cyprus
Greece
Phone: (+357) 2319129
Fax: (+357) 2314552
Email: thalassaemia@cytanet.com.cy

Hemochromatosis Foundation, Inc.

P.O. Box 8569
Albany NY 12208-2569
Phone #: 518-489-0972
800 #: --
e-mail: N/A
Home page: http://www.hemochromatosis.org/

Iron Disorders Institute

P.O. Box 675
Taylors SC 29687
Phone #: 864-292-1175
800 #: 888-565-4766
e-mail: comments@irondisorders.org
Home page: http://www.irondisorders.org/

Iron Overload Diseases Association, Inc.
433 Westwind Drive

North Palm Beach Fl 33408-5123
Phone #: 561-840-8512
800 #: --
e-mail: iod@ironoverload.org
Home page: http://ironoverload.org/

March of Dimes Birth Defects Foundation
> 1275 Mamaroneck Avenue
White Plains NY 10605
Phone #: 914-428-7100
800 #: 888-663-4637
e-mail: Askus@marchofdimes.com
Home page: http://www.marchofdimes.com/

NIH/National Institute of Diabetes, Digestive & Kidney Diseases

Endocrine Diseases Metabolic Diseases Branch
Bethesda MD 20892-3570
Phone #: 301-654-3810
800 #: --
e-mail: NDDIC@info.niddk.nih.gov
Home page: http://www.niddk.nih.gov/

National Digestive Diseases Information Clearinghouse

http://digestive.niddk.nih.gov/ddiseases/a-z.asp
---
Doctors & Researchers
Doctors of the members on the list

Howard J. Worman , M. D. Columbia Univ., New York http://www.cumc.columbia.edu/dept/medicine/divisions/gi/disliv.html

Samuel Sigal is my current Hepatologist/Gastro now at Montefiore in NYC

Michael L. Schilsky, MD NewYork -Presbyterian Hospital/Columbia My first Liver Doc was at Weill-Cornell in New York City and is now at Yale University at a Liver Transplant facility at Yale | click here for another article
His specialties are: Liver Transplantation; Acute Liver Failure; Wilson disease; Disorders of metal metabolism


Louis M. Aledort, M.D. Professor, Medicine / Hematology And Medical Oncology, Mount Sinai School of Medicine My Hematologist !!